TAKE FLIGHT
The ROG Strix Radeon™ RX 6750 XT merges an industry-leading cooling solution with high-end power performance and additional creature comforts. Beneath the surface, a massive heatsink is cooled by a trio of Axial-tech fans that utilize a new rotation scheme and specialized roles for central and auxiliary fans. At the heart of the beast, top-shelf capacitors, chokes, and MOSFETs effortlessly deliver hundreds of watts at a millisecond's notice. A host of convenient features, including a Dual BIOS switch, 0dB mode, FanConnect PWM headers, and metal backplate, make this frame-crunching colossus an ideal choice for DIY builders.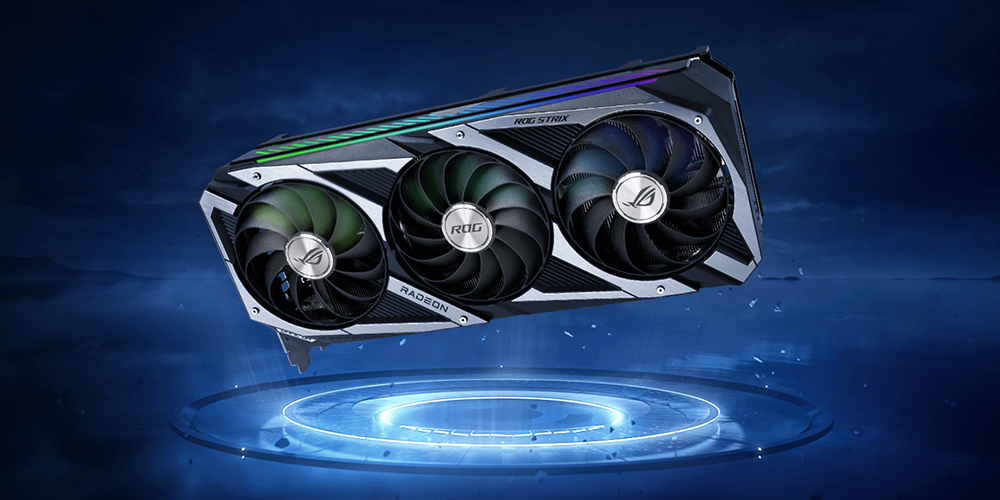 OC mode: Up to 2623 MHz (Boost Clock)/up to 2554 MHz (Game Clock)
Axial-tech Fan Design has been enhanced with more fan blades and a new rotation scheme.
2.9-slot design expands cooling surface area compared to last gen for more thermal headroom than ever before.
Super Alloy Power II includes premium alloy chokes, solid polymer capacitors, and an array of high-current power stages.
MaxContact heat spreader allows 2X more contact with the GPU chip for improved thermal transfer.
A reinforced frame prevents excessive torsion and lateral bending of the PCB.
FanConnect II equips a hybrid-controlled fan header for optimal system cooling.
A vented backplate prevents hot air from recirculating through the cooling array.
BIGGER, BETTER COOLING
This generation, our Axial-tech fan design has matured with an increased blade count on all three fans: 13 on the center fan and 11 on the auxiliary fans. The center fan's extra blades and full-height ring provide boosted static pressure to blast air directly onto the GPU heat spreader. The barrier rings on the side fans have been slimmed down to allow for more lateral intake and to provide better airflow through the massive cooling array.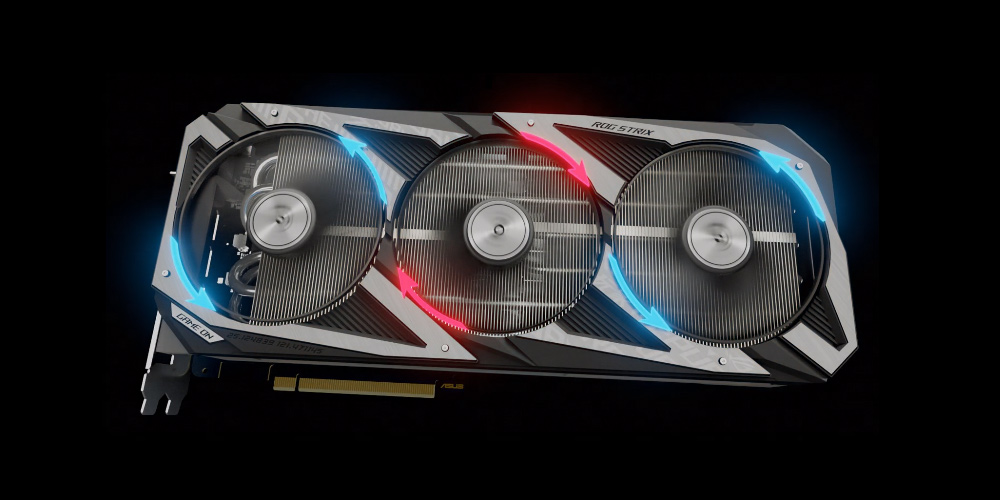 QUIET CUNNING
To bolster the specialized roles of the center and auxiliary fans, the rotational direction of the center fan is reversed. This reduces air turbulence inside the cooling array for another boost to overall thermal performance. Fans will also only start spinning when the GPU temperature hits 60 Celsius and shut off when temps drop below 55 Celsius, helping to reduce noise when the system is idling or under light load.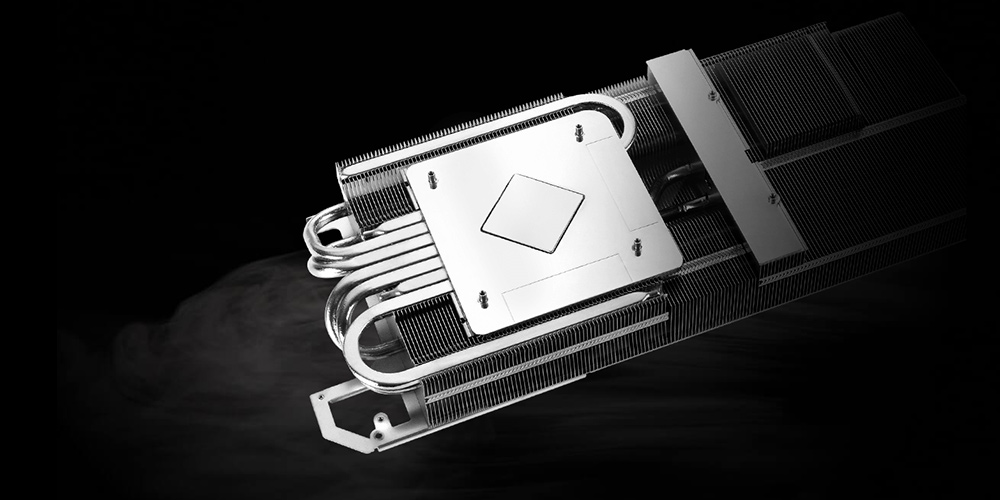 MAXCONTACT
To get heat up off the die and into the heatsink array, we've engaged MaxContact technology to polish the surface of the heat spreader and improve smoothness at the microscopic level. The extra flatness allows for better contact with the die for enhanced thermal transfer.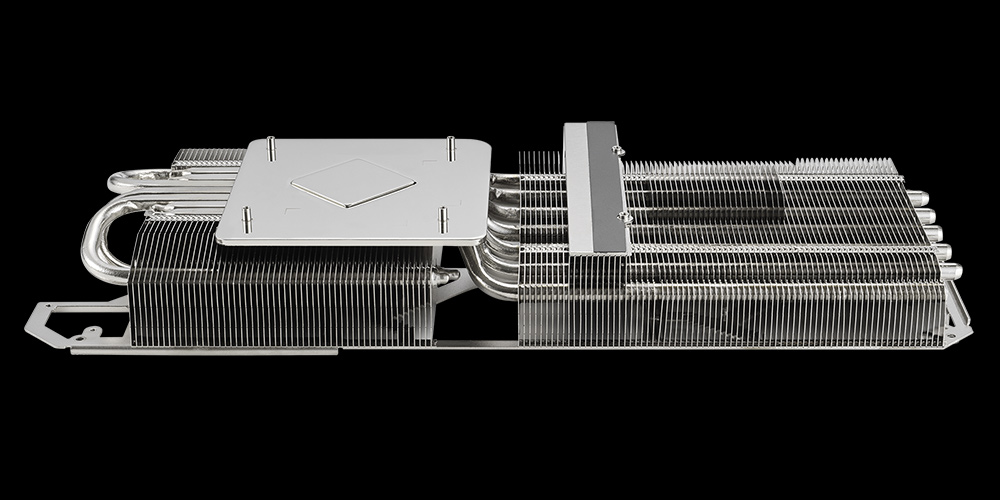 2.9-SLOT DESIGN
The heat spreader draws heat up into heatpipes that carry it through a fin stack that fills most of the card's large, 2.9-slot footprint.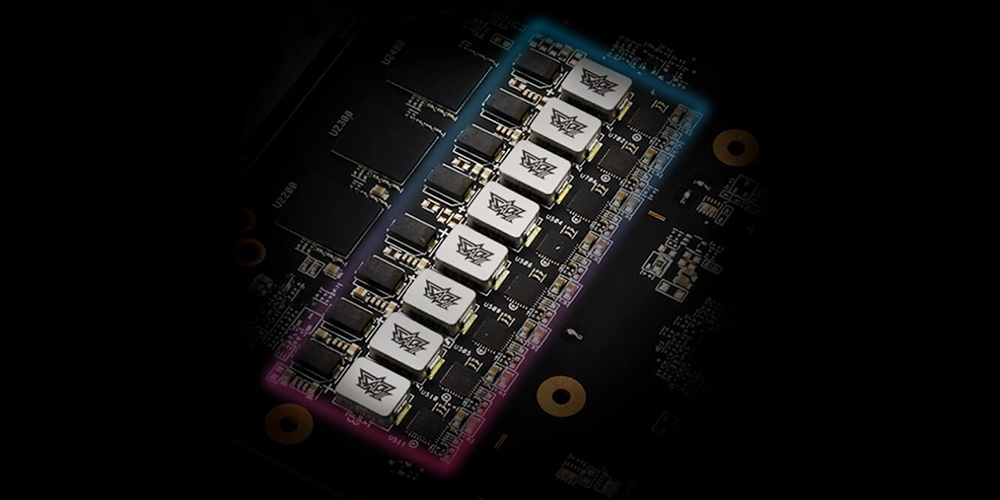 PREMIUM COMPONENTS
Top-shelf capacitors, chokes, and MOSFETs are selected to effortlessly deliver hundreds of watts at a millisecond's notice. The Super Alloy Power II parts are soldered to the PCB using our advanced Auto-Extreme automated manufacturing process. Precise joints and the elimination of human error ensures each graphics card meets our rigorous specifications.
*For reference only